Single trapped atom captures Science Photography Competition's top prize
Airman. Here's a close-up of the award winning atom.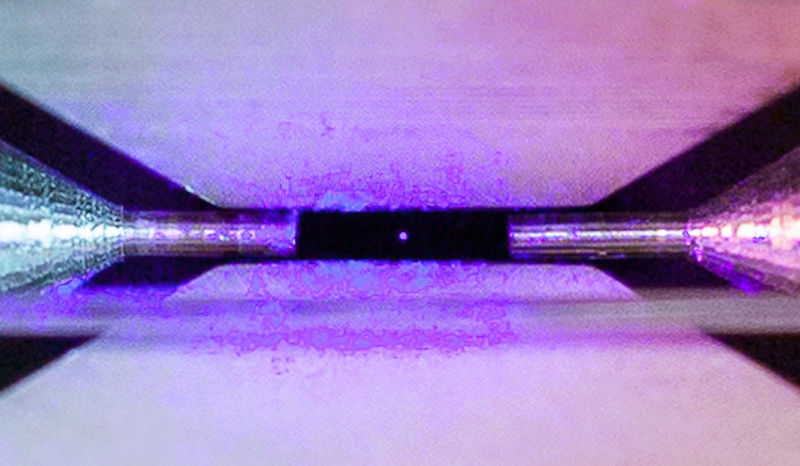 Image: David Nadlinger/EPSRC
Quote (released on 12 February). This strontium atom is emitting light after being excited by a laser, and it's the winner of the UK's Engineering and Physical Sciences Research Council (EPSRC) photography award. The EPSRC announced the winners of its fifth annual contest yesterday. Winning photographer David Nadlinger, graduate student at the University of Oxford, was just excited to be able to show off his research.
https://www.epsrc.ac.uk/newsevents/news/single-trapped-atom-captures-science-photography-competitions-top-prize/
Airman. I found the article through gizmodo.
https://gizmodo.com/picture-of-single-trapped-atom-wins-uk-science-photogra-1822957405
Picture of Single Trapped Atom Wins UK Science Photography Prize
By Ryan F. Mandelbaum
Airman. I love structures, there's one other picture I had to include (I lowered the resolution here, see the article for the higher res).
.

LongtimeAirman

Admin




Posts

: 1570


Join date

: 2014-08-10



A colleague showed this article at the office and I said that it was too big to be a single atom. Anyway, the general opinion was that it was fake.

If you think also about mainstream, what's an atom? An extremely tiny core with even more tiny particles that orbit around it at huge distances. No photo is logically possible, and that dot is way too large.

But let's think about what we know. How big should a Strontium atom really be? I'm sure there is some calculation by you or a paper from Mathis (sorry, I didn't read a lot of chemistry papers, I always hated the subject)

Ciaolo




Posts

: 143


Join date

: 2016-09-08



.
Ciaolo, I agree. An atom is too small to be seen in the photo, yet the photo is showing something.
Single trapped atom captures Science Photography Competition's top prize
'Single Atom in an Ion Trap', by David Nadlinger, from the University of Oxford, shows the atom held by the fields emanating from the metal electrodes surrounding it. The distance between the small needle tips is about two millimetres.
When illuminated by a laser of the right blue-violet colour the atom absorbs and re-emits light particles sufficiently quickly for an ordinary camera to capture it in a long exposure photograph. The winning picture was taken through a window of the ultra-high vacuum chamber that houses the ion trap.
Airman. A Strontium atom is being charged with a blue-violet laser. We are seeing photon emissions from a relatively large volume. A long exposure is necessary to produce the image. I assume that at the very center of that volume we'll find the Strontium atom. We don't have all the experimental information.
Instead of "proving" the image is false, we should find a better explanation for the image.  
.

LongtimeAirman

Admin




Posts

: 1570


Join date

: 2014-08-10



Yes, sure, I don't want to prove the image false, I just wanted to share the general opinion of people who believe in the mainstream theories.

What you quoted is interesting. Violet lasers are the strongest visible lasers = have the biggest photons. As far as I know, that would energize the atom very much, greatly increasing its equatorial emission.

What's the shape of that atom? What do you think would happen in that scenario?

PS. I'm glad that if someone breaks up with the mainstream theory, they start to be fascinated again by everything! Mathis is the new Galileo

Ciaolo




Posts

: 143


Join date

: 2016-09-08



---
Permissions in this forum:
You
can
reply to topics in this forum