Bristol-based Graphcore has used its AI processing units and software to create maps of what happens during a machine learning process
By Matt Burgess
Wired 14 Feb 2017
The University of Illinois is using deep learning to speed up astrophysics data analysis generated from the LIGO gravitational wave detector. If their model is executed on the Graphcore IPU, this image is generated: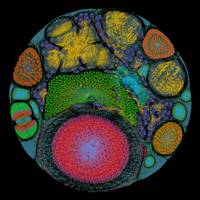 https://www.wired.co.uk/gallery/machine-learning-graphcore-pictures-inside-ai
http://www.lighton.io/our-technology
Our Technology
Our technology uses light to perform some computations of interest to Machine Learning. Our analog computation devices, literally harvests natural physical processes at unprecedented speed, size, and power efficiency. The resulting calculations can be used as a pre-processing step for a multitude of algorithms used in Machine Learning and Artificial Intelligence. The input and output of our system are connected to CPUs through standard high-speed digital connections. Our technology stack does not require exotic technology and can be inserted in various silicon roadmaps.
We communicate our findings to the Science community through preprints, presentations at conferences, and publications. The proof of concept of our first generation prototype can be found at:
Random Projections through multiple optical scattering: Approximating kernels at the speed of light, Alaa Saade, Francesco Caltagirone, Igor Carron, Laurent Daudet, Angélique Drémeau, Sylvain Gigan, Florent Krzakala, arXiv:1510.06664 [cs.ET]
---
Permissions in this forum:
You
cannot
reply to topics in this forum