.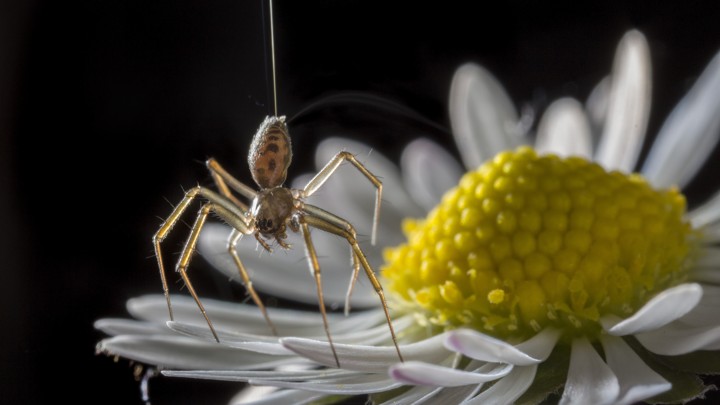 Spiders Can Fly Hundreds of Miles Using Electricity
Scientists are finally starting to understand the centuries-old mystery of "ballooning."
https://www.theatlantic.com/science/archive/2018/07/the-electric-flight-of-spiders/564437/
///\\\///\\\///\\\///\\\///\\\///\\\///\\\///\\\
And here's the source paper with summary and main figure.
\\\///\\\///\\\///\\\///\\\///\\\///\\\///\\\///
https://www.cell.com/current-biology/home
Electric Fields Elicit Ballooning in Spiders
https://www.cell.com/current-biology/fulltext/S0960-9822(18)30693-6
Summary
When one thinks of airborne organisms, spiders do not usually come to mind. However, these wingless arthropods have been found 4 km up in the sky [1], dispersing hundreds of kilometers [2]. To disperse, spiders "balloon," whereby they climb to the top of a prominence, let out silk, and float away. The prevailing view is that drag forces from light wind allow spiders to become airborne [3], yet ballooning mechanisms are not fully explained by current aerodynamic models [4, 5]. The global atmospheric electric circuit and the resulting atmospheric potential gradient (APG) [6] provide an additional force that has been proposed to explain ballooning [7]. Here, we test the hypothesis that electric fields (e-fields) commensurate with the APG can be detected by spiders and are sufficient to stimulate ballooning. We find that the presence of a vertical e-field elicits ballooning behavior and takeoff in spiders. We also investigate the mechanical response of putative sensory receivers in response to both e-field and air-flow stimuli, showing that spider mechanosensory hairs are mechanically activated by weak e-fields. Altogether, the evidence gathered reveals an electric driving force that is sufficient for ballooning. These results also suggest that the APG, as additional meteorological information, can reveal the auspicious time to engage in ballooning. We propose that atmospheric electricity adds key information to our understanding and predictive capability of the ecologically important mass migration patterns of arthropod fauna [8].
///\\\///\\\///\\\///\\\///\\\///\\\///\\\///\\\
In the diagram from the paper shown, we see the electrostatic field associated with the topside of the Oak tree, especially above all the limb/branch ends. When spiders lift their bodies and extend silk to be carried away by the air they are interrupting a maximum amount of charge at high points where the most upward charge is concentrated.
Miles would no doubt provide a comprehensive review and charge field explanation; nevertheless, we should all agree spider flight is clearly a Charge Field event.  After all, "electricity" is but a single aspect of the charge field.
.

LongtimeAirman

Admin




Posts

: 1570


Join date

: 2014-08-10



Fascinating stuff! I wonder how many other creatures travel with charge assistance, in similar ways. It seems most flying insects might get some help too?

Jared Magneson




Posts

: 522


Join date

: 2016-10-11



.
Fascinating stuff indeed. I'd say all flight requires charge field assistance. Spiders fly like dust buoyed in the atmosphere by the charge field and the breeze. With wings, animals and insects can generate thrust - accelerations that exceed gravity, given charge lifted air.

We also see that plants and high points can generate and sustain higher than usual electrostatic fields. Like Oak trees, given the correct weather conditions pyramids can produce strong electrostatic fields above the pyramid due to Earth's charge emissions and the pyramid's channeling capacity.
.

LongtimeAirman

Admin




Posts

: 1570


Join date

: 2014-08-10



I'm just getting into the MM 'mathworld' view. I'm looking for a handle on the "charge field" idea

nick weech




Posts

: 2


Join date

: 2019-03-12



.
Welcome nick weech.

As you've no doubt noticed, we are a sort of an unofficial Charge Field physics support group - all of us here are trying to understand Miles' Charge Field ideas better; many of them take some getting used to. Miles is always quick replying to email questions, but he doesn't have all the answers yet. Please feel free to join in.
.

LongtimeAirman

Admin




Posts

: 1570


Join date

: 2014-08-10




nick weech




Posts

: 2


Join date

: 2019-03-12



---
Permissions in this forum:
You
cannot
reply to topics in this forum