Page 2 of 2 •

1, 2

Hi Ken and welcome to the forum. I'm glad you appreciate Miles work and our contributions to it. We try to work through any problems we have with calm discussions (ok, we don't always live up to that as much as we would all like to

) and we are welcome to any questions you have.
I am not sure which paper you are referring to, but I would suggest that Miles is talking about how an electron can reduce the amount of charge that a proton stack can channel. So an OH radical is not going to be quite as radical if it has electrons in there compared to if it didn't. The number of protons can not change (or it would be a different molecule/atom) so the electron is the controlling factor. The neutrons in the proton stack can also turn if there is a uni-directional charge stream flowing through and this can also boost charge channeling because both neutrons (in the same slot of the stack) are channeling the same direction. I don't think neutron boosting is going to happen in an OH molecule as it isn't large enough to pull in so much charge.
Dear Nevyn,

Thanks a lot.

The paper is NMR.

I not only appreciate Miles Work and your effort, I strongly support MM Charge field theory. As I said, it is a magnificent truth and this truth sets people free!

Another theory for instance, at kinematic situation, "pi is 4" is brilliant and it is obvious to me now! MM conveys this message with many different papers at first, it is difficult to understand with preset "brain washed belief" in the beginning!


I still digest your reply as I need to study and understand more MM papers.

Keep up the works because it is a "scientific truth" and/or at least the BEST MODEL to explain the real science without fudges and pushes.


Cheers,

Ken NG
Ken NG wrote:I have a quick question, why MM said OH radical the south pole and north pole electron is so important, not proton, a bit confusing the role, ?
Welcome to the forum, Ken! Nice to have another person to share ideas with.
Can you quote the paper or link us, regarding your question about OH and poles? It might make it easier for us to discuss.



Posts

: 342


Join date

: 2016-10-11



Hello Jared Magneson,

Nice to meet you.


The paper is Nuclear magnetic resonance (NMR). It mentioned the great truth by Miles Mathis.

I have to say that again Miles' truth sets people free. It energizes me!


Ken NG from Hong Kong.
P.E. (US)



Ahh yes, you were referring to his paper on NMR. I gave it a re-read, and it's kind of a heavy one for me, but I follow the concepts pretty well if not the math. It makes sense, but I'm not good enough to do it on my own in this case.

But the re-read led me back into his Period 4 paper, which is excellent too. And then to his Atmosphere charge field paper, which is devastating. Good stuff!



Posts

: 342


Join date

: 2016-10-11



I like the words " devastating". It is really devastating to the current science modelling.
MM charge theory is bomb shell to the status quo camp which is hard to swallow for them!
I used to be really fancy for the quantum tunneling, entanglement (using a few years to contemplate the fantasy, no more now because it is fake now.)
How "devastating" it is... Not me anymore

Dear Nevyn,


I do not quite understand how a hydronium ion react with hydroxyl ion in detailed during the process.

My question is

How the hydronium ion changing mechanism from donating a proton (slipping a neutron?) to become one of the two forms of Miles Mathis' water molecule model??

Old wrong paradigm (strictly speaking) is below

H3O+ + OH- > 2H2O




Q: (how to happen in terms of mechanism in steps?)

Many thanks


Ken From Hong Kong

I think the reaction initially goes the other way around in a process called Auto-ionisation. Basically, in a volume of liquid water, there are small amounts of hydronium and hydroxil. If you look at my image of water in a post above, you will notice that one of the hydrogen atoms is in a precarious position. It is balancing on the top (actually to the right in that image) of the molecule at an angle that is dependent on the ambient charge field.

That hydrogen can easily be changed to either move closer to the rest of its water molecule (as I show in another image in that post) or to dissociate and leave it where it can join with another water molecule and form hydroxil. The molecule that it left will be hydronium because it only has 1 hydrogen atom left. The change in charge channeling probably pushes the extra neutron out of the other end of the water molecule. Of course, I haven't investigated the possibility that hydronium also has a neutron in the same position as water. It might in some circumstances such as being a single molecule and not part of some larger molecule.

I assume this process can work the other way as well, or all volumes of water would become a solution of hydroxil and hydronium. I imagine that the molecules might fall apart when the ambient charge field is reduced (possibly as a result of external influence or just by the other molecules in the vicinity).
Dear Nevyn,

Thanks for your explanation.

I got what you mean for the ambient charge field (and/or external charge field) on the effect of "front line" hydrogen.

But I am still not clear for the following:-

Q1. What is auto-ionisation per charge field theory?

Q2. Why and how it happens in terms of steps for "The change in charge channeling probably pushes the extra neutron out of the other end of the water molecule?" I asked because the rule of mechanisin is not clear for me per charge field theory as well as I saw your lab which has certain sets of rules already. I am still "digesting" it.



Thanks for your help and feel free to teach and discuss.

Best regards,

Ken from Hong Kong
Once the balancing hydrogen atom is removed from the water molecule, there are two possibilities: the neutron remains in place; or it is lost. If it stays in place then I think it is likely that another hydrogen atom may be able to slot back in to the vacant slot to form water again. If it is lost, then we have an intermediate entity that looks like this: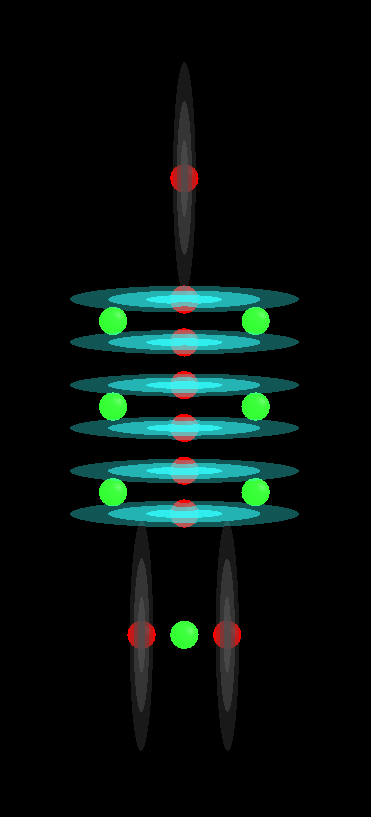 The bottom end still has its neutron in place but I believe this will be temporary as the charge emission of the top proton is more focused and will flow through the main proton stack of Oxygen and into that neutron at the bottom.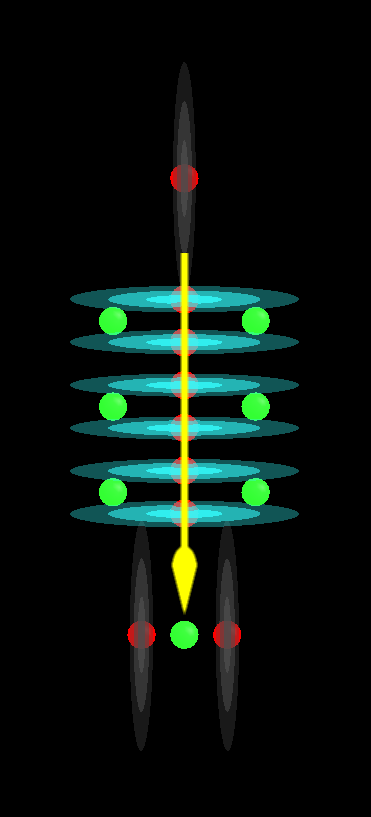 This is likely to blow it out of that position and allow the remaining protons to slide towards the middle a bit and create a more charge efficient molecule.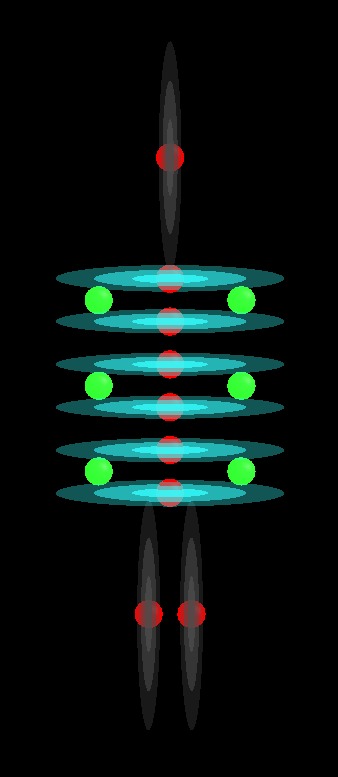 The neutron may remain in place though, and this would allow it to be changed back to water rather easily. It may be that there is not enough charge flow to build up enough pressure to push the neutron out and this stops the solution from becoming a hydronium and hydroxide mix over time.
Thanks Nevyn!

I will study and analysis it.
Page 2 of 2 •

1, 2

---
Permissions in this forum:
You
cannot
reply to topics in this forum